«EXPO» IEC | 53/1, ave. Mangilik El, Astana, Kazakhstan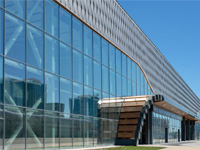 Multifunctional business arena for holding major international and national exhibitions, congress events and other large-scale events. The total area is 23,200 sq. m. There is an open space parking with a total area of 6,200 sq. m. m or 120 m / seats, which can be used for exhibitions.
The exhibition pavilion is equipped with modern means of communication, engineering networks and convenient access roads. The technical data of the pavilion allows developers to install both standard and exclusive exhibition stands.